Goals | Project Components | Timeline | Stakeholders & Partners | E-mail List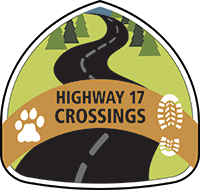 Highways connect us, but also divide the land and create barriers to safe passage for both outdoor enthusiasts and wildlife. Highway 17 has fragmented thousands of acres of open space in the Santa Cruz Mountains, limiting the ability of wildlife to find food, mates and habitat, and blocking several regional trail connections.
We are currently developing wildlife and regional trail crossings across Highway 17 to connect over 30,000 acres of protected public lands. To meet the needs of both animals and a variety of recreational trail users, one or more large crossing structures are needed. Well-placed and appropriately designed crossings will enable wide-ranging animals like mountain lions to roam and help reduce wildlife-vehicle collisions.
Highway 17 Wildlife and Regional Trail Crossings Information Sheet
Sign up to receive project updates
Project Update
On October 23, the Midpen board advanced four crossing structure alternatives—wildlife crossings at two proposed locations, and recreational crossings at two different proposed locations—to the next phase of Caltrans review, Project Approval and Environmental Document (PA&ED). While wildlife and trail crossings share the same goal, they fulfill different objectives: one to facilitate use by wildlife to connect 30,600 acres of protected habitat and the other to facilitate use by regional trail users as a critical element to closing a trail gap that would link over 50 miles of Bay Area Ridge Trail. To meet these objectives, two separate crossing structures are recommended.
Project Goals
Project Components
This project includes the development of wildlife and trail crossings and the additional new recreational trails necessary to connect to crossings for both. Midpen has worked together with project stakeholders, partner agencies and the public to develop and review potential crossing locations and trail connections.
Wildlife and Recreational Trail Crossings
Through an extensive three-year process, we developed eight potential crossing options. Caltrans review of these project alternatives is currently underway. The next phase of the project, environmental review, is scheduled to begin in late 2019.
Regional Trail Connections
Building the crossings is just one part of the solution. New trails also need to be built to connect the crossing to existing trails. We studied many potential trail routes to determine the best options.
Project Presentation - Planning and Natural Resources Committee Meeting
September 17, 2019
Funding
The Highway 17 crossings project was ranked as a Top 25 Priority in our 2014 Vision Plan. Partial funding of $16 million of voter-approved Measure AA funds has been allocated to the project. While regional connecting trails were also identified as a high priority, trail connections to the crossing will require funding through other means. Midpen is leading this locally, regionally and nationally important project and will collaborate with many partners and stakeholders to fund this work.
Project Timeline
Ongoing
Partner development, stakeholder outreach, and funding.
2016 - 2018
Feasibility study and revised alternatives report
2018 - 2019
Caltrans Project Study Report
Regional Trails Connection Study
Advance recommended alternatives and connecting trails to environmental review
2020 - 2022
Environmental review and permitting
2022 - 2023
Design (plans and specifications)
2024 and beyond
Construction (funding dependent)
Key Partners and Regional Stakeholders
This project requires a high level of coordination and partnership. Partners in this project may include:
Midpen is continually devloping additional partnerships and working with stakeholders to grow this list as the project develops.
Contact