Ongoing Prevention, Preparation and Response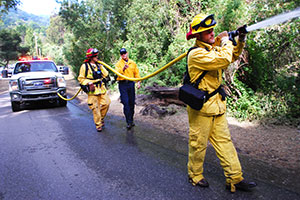 Though wildland fires seldom start in Midpen preserves, our staff work year-round to prevent, prepare for and respond to fire by:
Maintaining hundreds of miles of fuel and fire breaks and fire roads throughout our preserves, some of which are used as emergency ingress and egress routes for neighbors.
Annually training Midpen field staff as fire first responders
Outfitting ranger trucks with water pumpers during fire season
Reducing vegetation using conservation grazing on more than 8,000 acres on the San Mateo County Coast
Enforcing regulations against smoking, fires and guns in the preserves
Current Projects
In 2019 and 2020, Midpen maximized our ongoing environmentally sensitive vegetation management, often with partners including local fire agencies and conservation corps. Here a few examples of some of our recent projects:
New and maintenance of existing defensible space in Windy Hill Preserve near Alpine Road and The Sequoias retirement community
Maintenance of existing fuel break in Monte Bello Preserve along Page Mill Road
New defensible space behind horse paddocks at Bear Creek Stables in Bear Creek Redwoods Preserve
New and maintenance of existing shaded fuel break and defensible space in Pulgas Ridge Preserve

Partners
Midpen staff work cooperatively with neighbors, fire agencies and regional fire safe councils on fire prevention and preparedness efforts. The California Department of Forestry and Fire Protection (CAL FIRE) is the agency in our region that is responsible for fire suppression. Cal Fire's role is supplemented by local fire departments (such as Palo Alto, Woodside Fire Protection District, and Santa Clara County) as well as by statewide mutual aid agreements for large wildland fire events.