Goals & Objectives | Public Input | Timeline | Stakeholders & Partners | Contact
Background
Highways connect us, but also divide the land and create barriers to safe passage for both outdoor enthusiasts and wildlife. We are currently developing crossings across Highway 17 to connect over 30,000 acres of protected public lands on both sides of Highway 17. These crossings will link over 50 miles of existing Bay Area Ridge Trail and provide many more regional trail connections including the Juan Bautista de Anza Trail near the Town of Los Gatos and the Lexington Reservoir.
Building the crossings is just one part of the solution. New trails also need to be built to connect the crossing to existing trails. We have studied many potential trail routes to determine the best options. The Highway 17 Regional Trail Connections Study Report provides in-depth analysis of these routes. The study was developed in consultation with many partner agencies and the draft report is available for public comment.
The Highway 17 crossings was ranked as the number one project in Midpen's 2014 Vision Plan and funding for the crossings has been allocated through the voter-approved Measure AA. While the regional connecting trails project was also identified as a high priority project, these connections to the crossing will require funding through other means.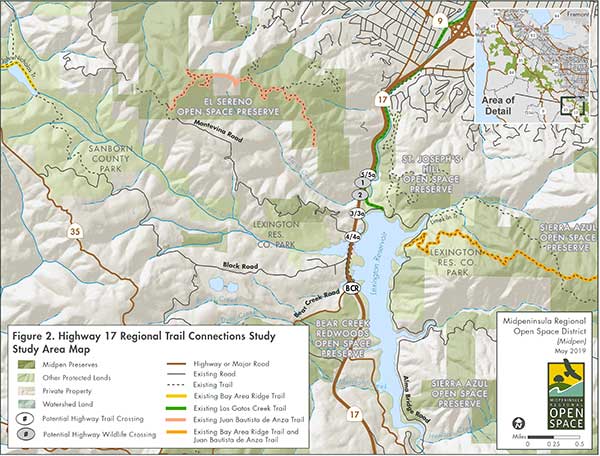 Goals & Objectives
Connect over 50 miles of existing trails—Bay Area Ridge Trail and Juan Bautista De Anza National Historic Trail
Link over 30,000 acres of protected public lands on either side of Highway 17 including Midpen preserves (El Sereno, St Joseph's Hill, Bear Creek Redwoods) as well as Santa Clara County Parks (Lexington, Sanborn, and Almaden Quicksilver).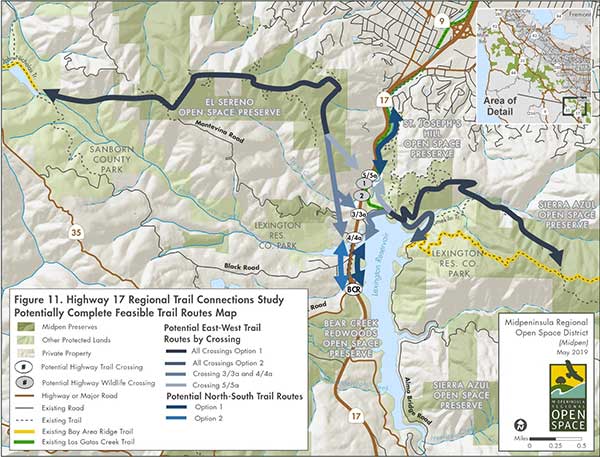 Join the Discussion
Highway 17 Regional Trail Connections Study
Midpen staff reviewed and evaluated 13 trail connections to the east and west of Highway 17 as part of this study. These trail connections link to one or more of three highway trail crossing locations under consideration and/or the existing Bear Creek Road Overcrossing. Public comment on the potential trail connections will be forwarded to Caltrans as part of their review of the Highway 17 Wildlife and Trail Crossings project.
Project Presentation
Project Timeline
Ongoing
Partner development, stakeholder outreach, and funding.
2019

Highway 17 Regional Trails Connections Study

Select preferred crossing and associated connecting trails options, conduct environmental analysis

2020 - 2022
Continue to work with private and public partners to develop agreements and public access easements
2023 and beyond
Begin construction (dependent on signed access agreements and funding).
Key Stakeholders and Regional Partners
This project requires a high level of coordination and partnership. Partners in this project may include:
Midpen is continually developing additional partnerships and working with stakeholders to grow this list as the project develops.
Contact