Technology provides many exciting ways to help you explore your local open space preserves. From reading a map on your computer to pinpointing your location on a trail using your mobile device, tech tools can help make your visit more enjoyable and safer.
OuterSpatial App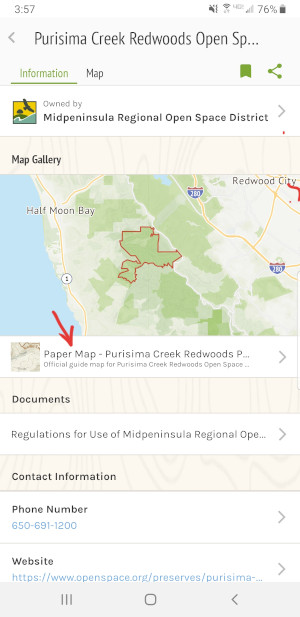 Access Midpen preserve maps and information in the palm of your hand with the FREE OuterSpatial app. Follow the map instructions below to find locate yourself on the map while you are out on the trail, even when you are offline. OuterSpatial also provides access to maps and info from many other park agencies in our region and beyond. Download it today!
A little bit of set up is necessary before you're at the preserve to make sure you have the map you need while out on the trail, when cell coverage is often not available:
Open the OuterSpatial app on your phone or tablet.
Click Explore to find the preserve that you want to visit by using the search bar or clicking the area icon on the interactive map.
Click on the selected preserve tile and scroll down to the Map Gallery section to open the Paper Map link.
Zoom in on the map–once you can clearly read the trail names the paper map has loaded to your device.
When you're at the preserve just re-open the map and click the arrow button (upper-right). The app will use GPS to center the map on your location, shown as a blue dot which works even when you do not have cell coverage or wifi.
GeoPDF Maps
All Midpen trail maps are in GeoPDF format, so you can download preserve maps and use them with an app on your mobile device. GeoPDFs have map coordinates embedded in them so that you can view your location on the map and even track your route. Because they work using your device's GPS signal, you can continue to use them when you don't have cell coverage.
There are many free GeoPDF readers available, including the Avenza Maps app, below.
Avenza Maps App
Midpen maps can be downloaded for free from within the FREE Avenza Maps app or from the preserve pages on our website. Avenza Maps allows you to view maps offline, see your location on the map, plot placemarks and photo locations, and measure distance.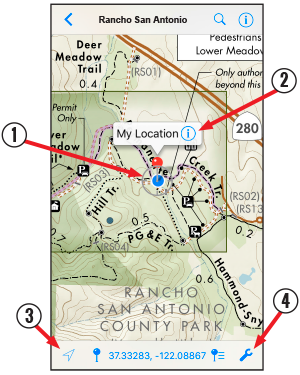 The blue dot and crosshair shows your location.
Drop placemarks and add photos at your location.
Tap GPS button to view your current location. Tap placemark button to drop a pin.
Use tools to record GPS tracks, find coordinates, add geotagged photos and more.
Please note: Be careful to not rely solely on a digital map. Your device could fail, or your battery could run out. We recommend printing a preserve map at home. Due to COVID-19 safety measures, printed maps are not available at the trailhead.