Location and Background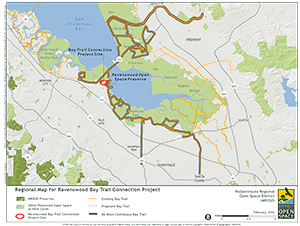 The Ravenswood Bay Trail will complete a 0.6 mile critical missing gap in the San Francisco Bay Trail on the San Francisco Peninsula, between the existing Bay Trail along University Avenue and the existing unpaved multi-purpose trail in the Ravenswood Open Space Preserve and the City of East Palo Alto's Cooley Landing. Completing this trail gap will open up 80 miles of continuous Bay Trail connecting to Menlo Park to the north, Mt. View/Sunnyvale/Santa Clara to the south and across the Dumbarton Bridge to the East Bay. The San Francisco Bay Trail is a planned 500 mile walking and cycling path around the entire San Francisco Bay through all nine Bay Area counties and 47 cities.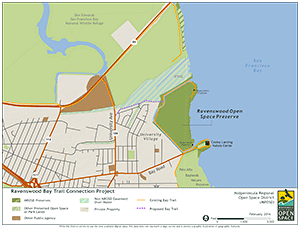 The Ravenswood Bay Trail will provide easily accessible recreational opportunities for the East Palo Alto and Menlo Park communities, outdoor enthusiasts, including hikers, joggers and bicyclists. It offers a setting for wildlife viewing and environmental education, and increases public respect and appreciation for the Bay. It also has important transportation benefits, providing a commute alternative for cyclists including a bicycle crossing at University Avenue and the Dumbarton Bridge.
A Mitigated Negative Declaration and Initial Study for the Ravenswood Bay Trail Connection Project was approved on November 16, 2016.
Initial Study/Mitigated Negative Declaration
Project Schedule
Design/Engineering: 2017-2018
Permitting: 2018-2019
Construction: 2019-2020
Funding
The total project cost is estimated at $3.1 million. The trail easement is in exchange for the pipeline easement granted to the SFPUC, and no funds will change hands between the parties. Trail design and permitting will utilize San Mateo ($1 million) and Santa Clara County ($400,000) grant funds. Trail construction will use grant funds and voter approved Midpen Measure AA funds to help complete Vision Plan Portfolio #2 – Build New Bayfront Trails.
In October 2018, Midpen was awarded a $1,055,328 Urban Greening grant from the California Natural Resources Agency to assist in the construction of the Ravenswood Bay Trail. Funded by Cap-and-Trade revenues, also known as the Greenhouse Gas Reduction Fund, the grants support projects that aim to reduce greenhouse gases by sequestering carbon, decreasing energy consumption and reducing vehicle miles traveled.
Public Participation
Sign up below to be added to the public notification list for this proposed Ravenswood Bay Trail Easement project.