Background
The 57-acre former Beatty property is located on the easterly side of Alma Bridge Road and Lexington Reservoir. The property directly overlooks Lexington Reservoir and enjoys excellent views of the entire Lexington and Los Gatos Creek basin and the surrounding open space and park lands. The property, now part of Sierra Azul Open Space Preserve, was purchased in 2008 with funding assistance from the County of Santa Clara with an agreement to build a trail connection to the Priest Rock Trail.
Midpen is currently exploring the feasibility of introducing public access to the northern area of the property. Project elements include an approximately 1.3-mile multi-use trail connection from a new parking area to the Priest Rock Trail, a potential new trail connection to the existing Lexington County Park parking lot across Alma Bridge Road, improvements to existing access roads, trailhead infrastructure, and a new restroom.
The Beatty property's rolling grasslands, oak woodlands, and riparian habitat support a diverse community of endemic plants and wildlife, including 24 special-status species. An existing historic residence is located on the property, but is the subject of a separate planning process.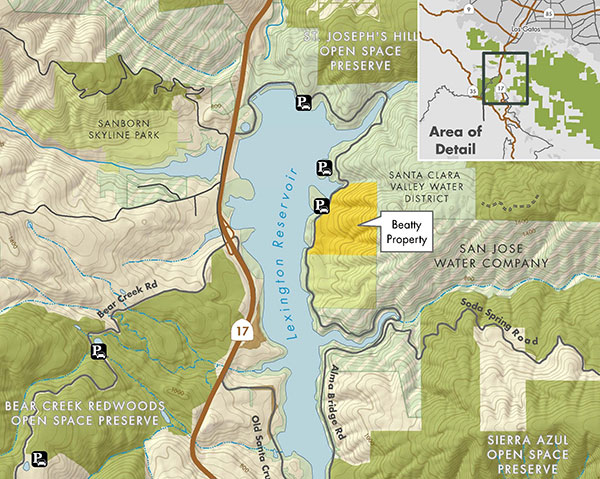 Project Schedule
January 14, 2020 - Board committee meeting to review public access project (Agenda for this meeting can be found here)
The trail and parking area is tentatively scheduled to open in 2023.
Funding
The trail project is funded by support from the County of Santa Clara who contributed $950,000 toward the property purchase in exchange for the trail connection and a grant from the Santa Clara Valley Water District (Valley Water). Developing parking in the Cathedral Oaks area of Sierra Azul Open Space Preserve and opening it to public access is a project identified in Midpen's Vision Plan Portfolio #22, and is supported by voter-approved Midpen Measure AA funds.