Timeline | Funding | E-mail List
This project includes removal of a historic residence followed by habitat improvements on the former Beatty property in Sierra Azul Open Space Preserve.
The Beatty House is located at 17820 Alma Bridge Road in unincorporated Santa Clara County, approximately three miles south of Los Gatos and approximately two miles east of the Alma Bridge Road exit from Highway 17. The Beatty House site is eligible for inclusion in the California Register of Historic Resources, but is not currently listed on federal, state, or local historic resource inventories.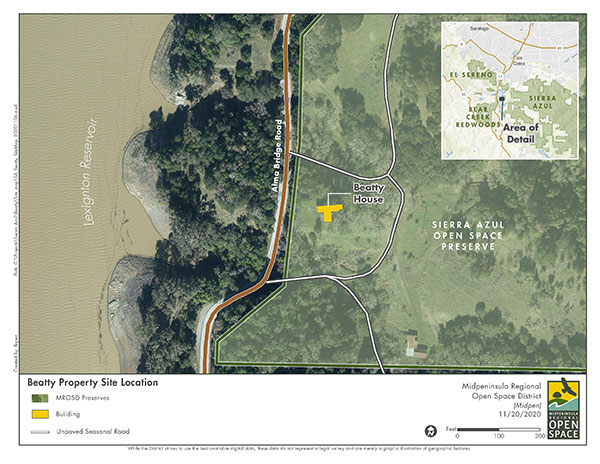 Goals and Objectives
Remove physical hazards to ensure public safety and potentially support future interpretive uses
Improve ecological qualities at the Beatty House site and immediate surroundings
Provide focused interpretive and educational opportunities associated with the former Beatty House, consistent with open space values
Enhance natural visual character and scenic qualities
Implement a fiscally sustainable project
Notice of Preparation

The Midpeninsula Regional Open Space District has issued a Notice of Preparation to announce preparation of an Environmental Impact Report for the Beatty House Removal and Site Restoration project.

Review Period: Wednesday, February 3, 2021 – Friday, March 5, 2021
Anticipated Timeline
| Tentative Schedule | Milestones |
| --- | --- |
| February 2021 | Circulate Notice of Preparation for public review |
| February 24, 2021 | Public scoping meeting |
| Winter 2021 | Circulate Draft Environmental Impact Report for public review |
| Spring 2022 | Circulate and certify Final Environmental Impact Report |
| Summer 2022 - Summer 2023 | Permitting |
| Fall 2023 | Project implementation |
Funding
Structure removal will be funded through the Midpen general fund. Habitat restoration may be funded through Midpen Measure AA funds as part of Portfolio #22.
Related Documents
Structure Stabilization - Board of Directors Meeting
(April 2020)
E-mail List
Please sign up for our email list to receive notifications about this project and other updates about Sierra Azul Preserve.
For additional information please contact
Alex Cabara
, Planner III.