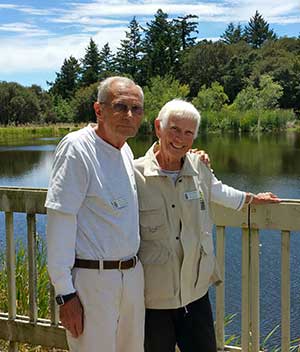 A donation to the Midpeninsula Regional Open Space District in memory of Judy and David N. Daniels will assist us in carrying out our mission of preserving open space for future generations.
As nature center hosts and significant contributors to Midpen, Judy and David felt honored to welcome countless weekend visitors to the David C. Daniels Nature Center (funded in large part by the Daniels' and named in memory of their son). They were firm believers in the preservation of nature, and the surrounding foothills were beloved to them at a very deep level.
The Daniels volunteered together as nature center hosts from 2002 - 2015, sharing their knowledge and love for the outdoors with people from all around the world. Judy and David were very warm and caring individuals, appreciated by all who knew them. The board of directors and Midpen staff are grateful for their many contributions.
How to Donate
Donate online using our convenient and secure credit card processing system below
Download the donation form and mail it with your check to Midpen, 330 Distel Circle, Los Altos, CA 94022-1404
---
Donation Form
Charitable contributions to a government agency are tax deductible. The Midpeninsula Regional Open Space District is not a charitable foundation under 501(c)(3) of the Internal Revenue Service (IRS) code, however donations are tax deductible under IRS code Section 170(c)(1). If you have any questions about the deductibility of your donation, please contact your tax advisor.