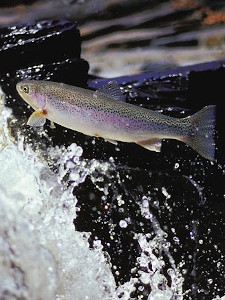 Protect and Restore
The El Corte de Madera watershed protection program and other related trail upgrades and drainage improvements have been implemented to:
Prevent sedimentation in Lawrence and El Corte de Madera creeks in order to improve water quality for downstream fish.
Improve overall watershed health.
Enhance the trail experience for preserve visitors.
Our watershed protection program helps protect and restore ecological integrity, while allowing opportunities for safe and ecologically sensitive public enjoyment and education. The program implemented long-term solutions to erosion and creek sedimentation problems caused in part by old logging roads. A major portion of the work focused on improving the road and trail system and stream crossings. The program now calls for maintenance and monitoring of streams and trails.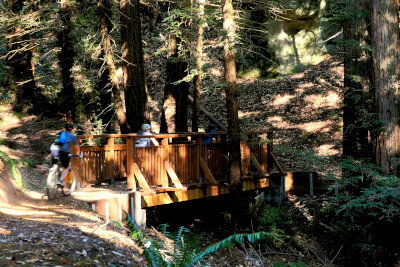 Watershed Health
El Corte de Madera Creek Open Space Preserve encompasses 2,906 acres in the upper headwaters of the San Gregorio Creek watershed. This watershed provides critical habitat for steelhead trout (Oncorhynchus mykiss irideus) and coho salmon (Oncorhynchus kisutch). Steelhead are federally listed as a threatened species, and coho salmon are listed by state and federal agencies as endangered on California's central coast. These species have experienced dramatic population declines primarily due to habitat loss from streambed sedimentation associated with water diversions, road construction, mining, grazing and timber harvest activities.
This preserve offers a unique and complex challenge to Midpen and its partnering agencies. Not only does the preserve occupy a key location within the San Gregorio Creek watershed with sensitive fish habitat, but its extensive network of former logging roads makes it extremely popular among mountain bikers, hikers and equestrians. To balance the health of the watershed (and of the people and animals who depend on it) with recreational uses, Midpen partnered with the National Marine Fisheries Service, California Department of Fish and Wildlife and the Regional Water Quality Control Board to create a comprehensive watershed protection program for the preserve.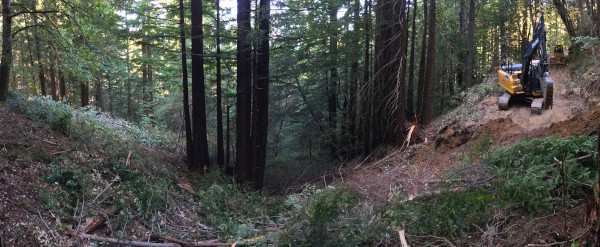 Restoration Work
Midpen inherited a network of roads from the logging era when it purchased the land. Most erosion in the preserve could be traced to undersized or failing drainage culverts and the intersections of old logging roads with streams. These logging roads were constructed using heavy equipment and the most effective restoration work has been accomplished using the same sized equipment as well.
Over the course of many years, watershed restoration took place on 24 miles of trail in the preserve, including the construction of 10 bridges and six puncheons (small creek crossings). Five miles of road were returned to a more natural state and numerous culverts were replaced or removed.
Evidence of the restoration work is only temporary. Vegetation is beginning to flourish in the creek areas that were long buried by logging road construction debris. Future trail users will not recognize the former logging roads as they enjoy pleasant trails winding through the redwood forest.
Preliminary stream monitoring results indicate that less sediment is entering the stream and downstream salmonid habitat has improved as a result of the restoration work. We're now in the final phase of data gathering and plan to release the results in 2020.