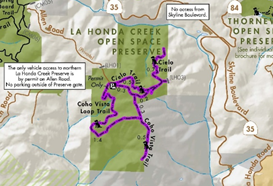 Notice of Change to On-Leash Dog Access in Upper La Honda
In accordance with the La Honda Creek Open Space Master Plan, the District is opening designated trails in Upper La Honda Creek Preserve (as shown on map) to on-leash dog access starting October 19, 2018.
A permit for parking is required to park in the upper portion of the Preserve. No parking is allowed outside the gate or along Allen Road.