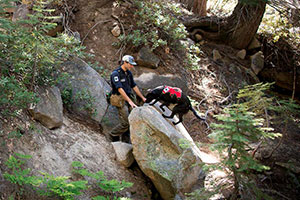 From November 12th through the end of January 2018, the California Department of Fish and Wildlife (CDFW) will be conducting a mountain lion population study in Midpen preserves and surrounding areas. This work is part of a state-wide effort and will involve the use of "Conservation Canines" – dogs that are specially trained to find lion scat (droppings). This is a new method being tested in the area for estimating the size of mountain lion populations. Scat samples can be used to identify individual lions and determine certain health characteristics.
Dogs and handlers will both be identifiable by their bright orange vests with visible Conservation Canine patches. Dogs will be on a leash at all times and will wear a bell to let both the public and wildlife know they are in the immediate area. Signs will also be posted at trailheads when the Conservation Canines are working in the area. Teams may be observed off trail and in areas of the preserves where dogs are not allowed – these dogs are are specially trained to reduce impacts to natural resources, and are operating under a special Fieldwork permit issued to CDFW.
For specific questions about this research project contact Justin Dellinger at 916-261-3610
For more information about the Conservation Canine program, visit their website at www.conservationcanines.org.